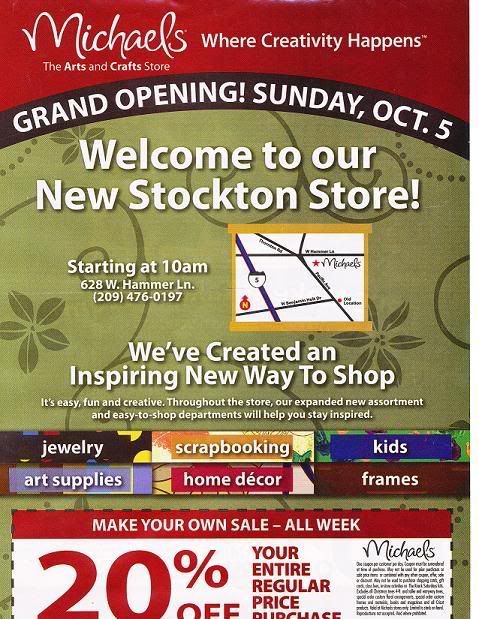 So I checked the mail this morning and mixed in with the rest of the junk mail advertisement's was this Michael's ad. They want to promote their new Stockton store and the coupon's are only good at the Stockton store. The problem?

Stockton is in California and I live in Texas!!


Okay, so really the mess up obviously made by the junk mail people isn't that much of big deal. Except....that I am actually from Stockton, California!! To me, that is a crazy coincidence! And the new Michael's store is on Hammer Lane at Pacific Ave. Well I know exactly where that's at!! I used to live off of Pacific Ave.


Just seeing this brought back memories of Stockton. On our honeymoon I took Aaron on a tour of Stockton and showed him all of the places, houses, school's I used to go to.


Another thing that makes this coincidence stand out to me was watching Sons of Anarchy last night. The show is set in the make believe town of Charming, California. Which is supposed to be in San Joaquin County (which is where Stockton is)....and they even made a trip to Stockton on the show last night.


So that's 2 days in a row of Stockton....is someone trying to tell me something?