So yesterday was New Year's Eve and that also happens to be our dog Caleb's birthday. He turned 1. Since Aaron had to work, and Anthony was at my mom's (he did stop by to tell Caleb happy birthday), me and the girl's decided to have a birthday party for him.
Here is he waiting for all of the festivities. lol
Emma mixing up the cake batter. And just to get it out of the way, no Caleb did not get to eat cake. He had treats but the girl's associate birthday cakes with birthday parties, so we made one for them.
Sara spraying the pan.
The yellow is eggs. Kinda crazy how bright that showed up.
And of course the sprinkles. We wre using the Holiday cake mix that they were selling around Christmas time.
So excited! lol
Sara about to wrap his present. The girl's call this Caleb's Grinch.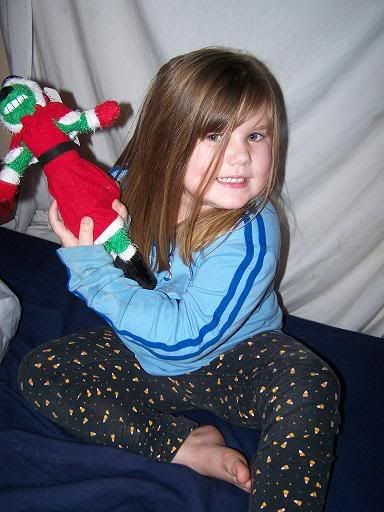 Emma wrapping his presents. She picked out the wrapping paper from the leftover Christmas wrap and I gave her a pair of scissors and some tape and let them do it themselves.
Here is Caleb opening his presents. He really did try to open them himself. Well, 2 out of the 3. He could smell the treats and the bone, but not the grinch.
Enjoying his new red candy cane shaped bone. Which by the way, turned his nose and paws pink. LOL
Oh yes, I can't forget the party hats the girls made. So festive aren't they? Next year I need to remember to pick up party hats.
Well, it's his party so of course he has to wear one too!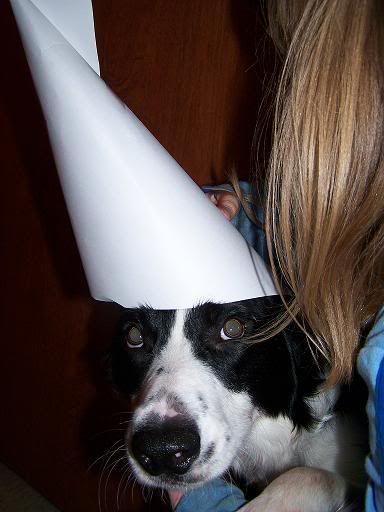 The cake. Actually there are 2 of them (one for each girl to make). Here is Sara's...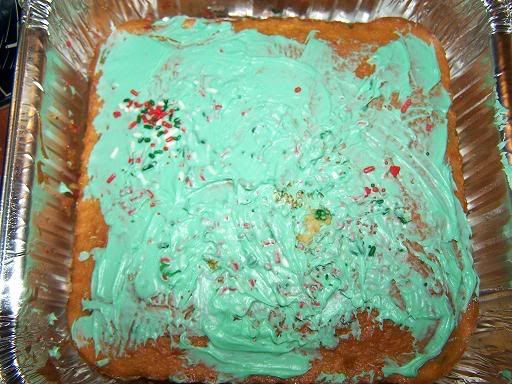 Here is Emma's. You can't tell from the pic but she made all of the little trees and snowmen stand upright!
The girl's with their creations!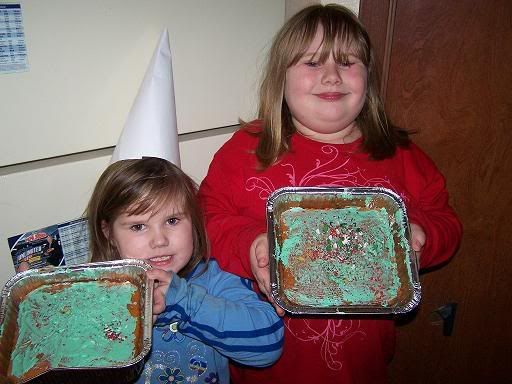 Here they are blowing out the cake. I gave them each 1 candle.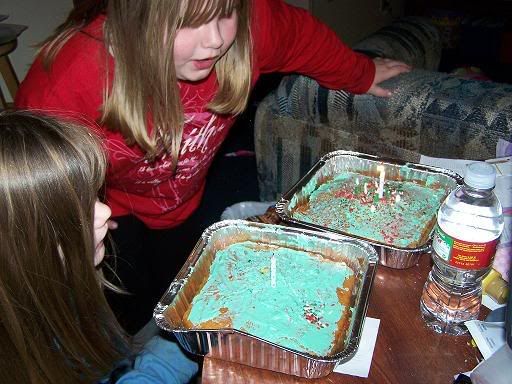 I have to say that it was such a nice night. It's been a few year's since we went out for New Year's (mainly because Aaron has to work). But I'm glad we aren't out on the road with a bunch of drunk people driving around. Plus, it seems like it never fails that there is a fight at whatever party we go to. Too much drama.
When Aaron got home we talked about how it's nice that the kid's have Caleb's birthday to look forward to and celebrate New Year's Eve every year. Well, Happy New Year everyone!