We had a storm tonight. Tarrant County got it really bad and if you are in the DFW area, you know all about it since they didn't play any shows, just broadcast the weather all night. North Richland Hills was getting hit really bad with rain, winds over 60 mph and baseball sized hail. We live a block away from the border of North Richland Hills so it was scary.
So I decided to go to Walmart and go shopping. Hey, the sky was getting dark but it wasn't even sprinkling yet and I really needed a Magic Eraser. I left Anthony at home and me and the girl's went. We were almost done getting our stuff when someone came over the intercom and said that there has been a severe weather warning issued and all customers should go to the center of the store. Scary huh?
So I immediately called my neighbor Melissa and told her to go get Anthony and make him go to her house. She said no problem....then I thought, what the heck am I doing at Walmart, I'm outta here! I didn't have much stuff so we quickly went through self checkout and went home.
It was still awhile before it started raining, so we were okay. But, it made me think of the day after Anthony was born. He was born at the Lewisville hospital and the maternity ward (back then) was on the 2nd (top) floor. The nurse came in and said that a tornado was headed our way and that all of the babies had to go back to the nursery and that the mom's were being put into the hallways for safety. I thought "there is a tornado coming and there is no way in hell I am leaving my baby". I was the only mom that went to the nursery with her baby. No tornado came but it was definitely a defining moment for me as a mom.
So anyway, we cleared out Anthony's closet and put blankets and pillows and Sara's mattress up. We even connected Caleb's leash to the clothes bar to make sure if something happened he would stay with us. We never had to get in there (all it did was rain here and not even that hard), but the girl's enjoyed the thrill of it all.
Here is Emma with her scared face.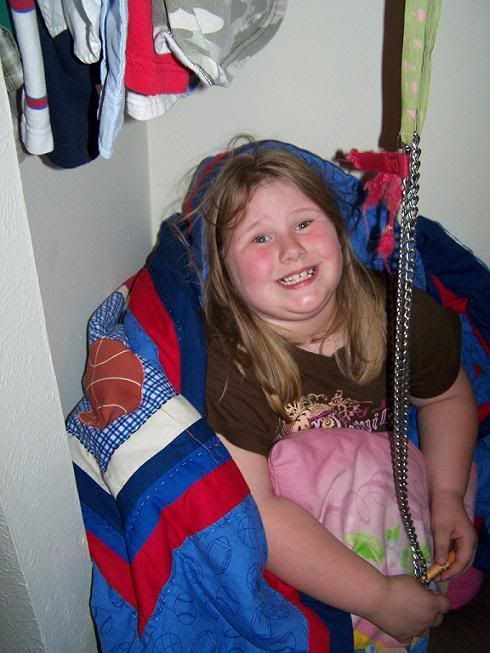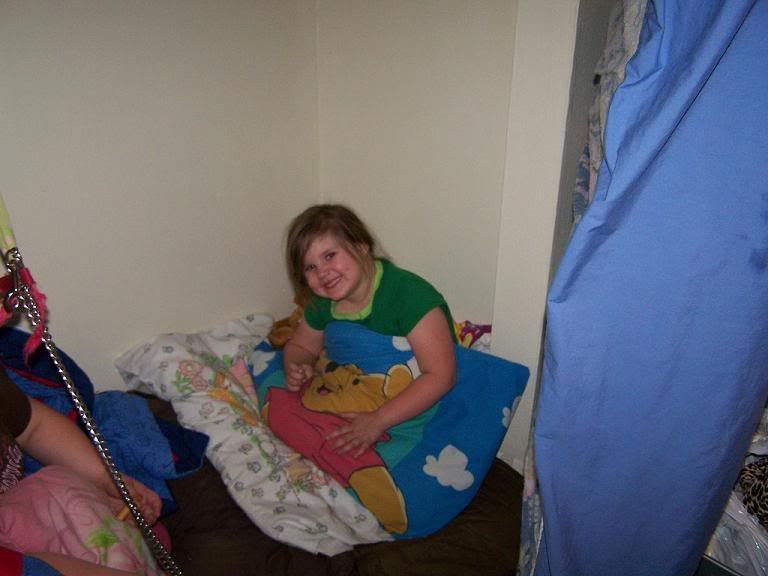 Oh yeah....and the ever so important shopping trip loot! The reason we just had to go to Walmart! Not pictured is the Magic Eraser and some lemonade. We also got some bubble bath, toothbrushes, kid's bar soap, Febreeze (I love the vanilla and lavendar scent) and a bathroom cup holder. Yep, all items worth risking your life for, wouldn't you say? lol