I got the basic idea for this chore chart off my mommy message boards and tweeked it a little to fit for us. And instead of each kid having their own, all 3 kid's are sharing one.
Here is a close-up of the things we expect the kid's to do everyday. The other side of the circle says Done!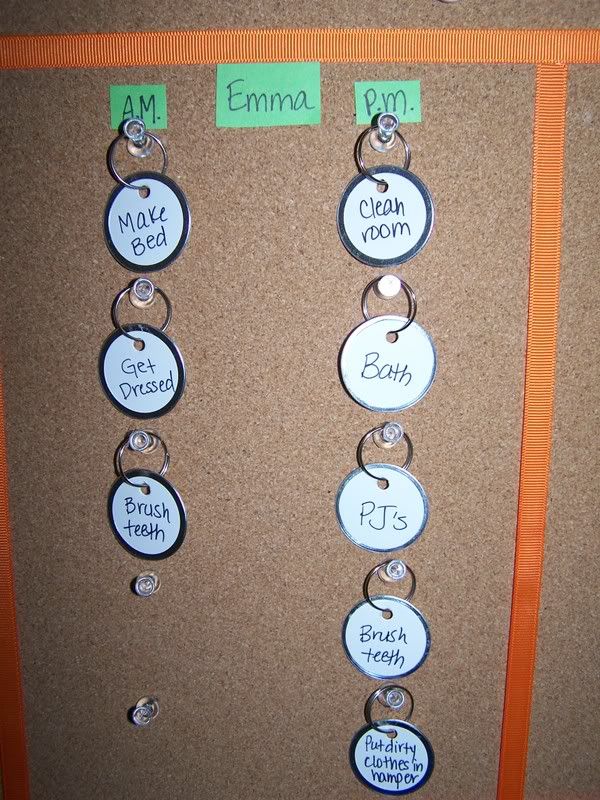 Here is the list of extra chores they can perform to earn money. Most are set at 50 cents, but there are a couple that are $1.
Here are the 10 cent clean up's. If the kid's are playing with something and put it away before moving onto the next thing, they can earn 10 cents. Hopefully this will eliminate leaving one mess to create another.
Game coins are $1.00 for 30 minutes. So in order to get computer or Wii time, they have to pay $1...and to earn that $1 they have to do chores. So it's win win (to me anyways)....I get help around the house and the can
earn
their game time. And I have a digital counter to make sure they get only 30 minutes at a time.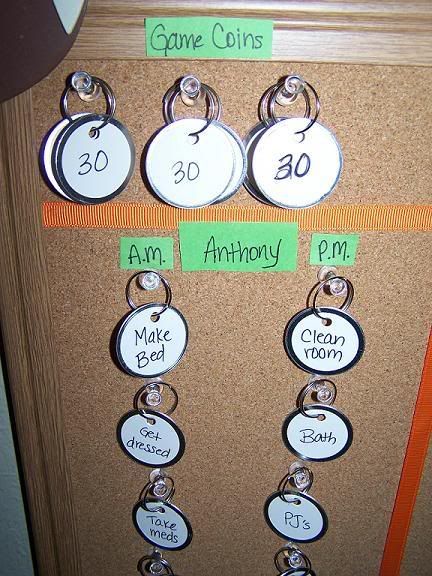 This is the section where they move the chore tabs to once they have completed them. This way I know who did what and how much to pay. There are also smiley faces here. At least they start off that way. If they get out of line, the face turns over into a frown and they get time-out. Three frowns means you don't get game coins that day, even if you have the money to buy them.
I am going to be making the kid's "time cards" to keep track of their earnings daily (since the chores get reset every day). That way on Sunday I know exactly how much we owe them and what they spent on game coins during the week.