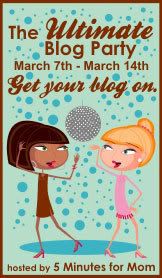 UBP is basically a cool open house for your blog--share the URL with your readers, link it in your blog, introduce yourself, add yourself to the link list and browse the list for new fun reads. And even better, give & receive comments. And you all know I like comments!
You are supposed to tell a little about yourself. I am a stay at home mom to Anthony, Emma and Sara. We are in our 2nd year of homeschooling and we love it. Someday I will leave Texas and move to Washington state! I like to read but I never seem to make time for it. I also love to BLOG!! That's pretty apparent considering I have 4 of them!! Yeah, y'all only know about 3 of them because I don't advertise the other....makes you wonder what it is, doesn't it? lol
Well...the cool thing about this party is that you can win prizes. So here is my list of prizes I would like to win (I am trying to get some hair bows and a hair bow holder as a prize).....
#119 Personalized lunch box by
Girl, That's Cute
!
#128 Yoga for Christians by Kathleen Marie
#80 Scripture Doll by
Live, Laugh, Blog