During the summer I had heard about something called The Grocery Game. Basically it's a website where they have compiled the sales from your local stores. Mostly advertised sales, some not. Then they match it up to coupons that you get in the Sunday paper and tell you how much money you save (percentage) off when you use that coupon with that sale.
The first time we did it we saved a ton of money! The website lets you try it out for 4 weeks for only $1! And that includes all of the stores in your area. Then it's $10 for the 1st store and $5 a store after that. The prices are for every 2 months. So if you choose 3 stores, it's $20 every 2 month's. Not too bad. My local stores on the list are Kroger, Tom Thumb, Albertson's, CVS and Walgreens.
Something they recommend is putting together a coupon binder. Here you can organize your coupons and it makes it easier for you! I agree. Although, it does take time to clip the coupons (make sure you really trim up the edges) and then put them in the right pocket. I do it while I watch Desperate Housewives...how easy is that?!
Here is what my coupon binder looks like....I continually add more categories. I started out with a "dairy" category but I had so many sour cream, whipping cream, cheese, etc coupons that I had to give them their own pocket.
This is a pic of the store pockets. When I go down the grocery game list I write down the deals I want to take advantage of. That way I know exactly what I am getting at each store. And as I make the list, I pull the coupons and put them in the store pocket where I am going to use them. I also have a re-file pocket in case I end up not using a coupon, I can put it back where it goes and save it for later.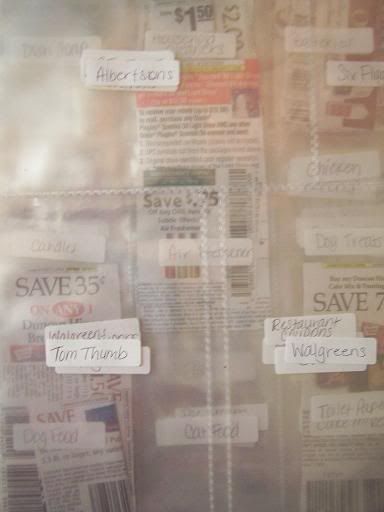 I think that you tend to get into the habit of bringing the binder into the store with you in case you happen upon a deal not listed, or in our case, suddenly remember you need toilet paper (something you need whether or not it's on sale) and you can pull out a coupon for it.
A calculator is also something handy to bring with you. I have a horrible time calculating prices in my head. You should have seen Aaron's face when I asked him how much is each item if the price is 15/$10. lol
I have totally slacked off of the game though and it took me forever to clear out my binder of old, expired coupons and then start over. They say that your coupons may vary from the ones the list has until playing for about 12 weeks. Then you should be on track with Teri (the website's creator). Keep in mind that the stores run their sales from Sunday to Tuesday, not Saturday like other stores. The exceptions are the pharmacies.
But if you play the game right and keep an eye out for deals, it's definitly worth it. Especially when it comes to stockpiling items. For a family of 5 like us, we can never have too many tubes of toothpaste, extra toothbrushes, shampoo, etc. around! And to get them free or next to nothing!! That is some frugal living!!