We went over to my mom's house for Thanksgiving. It was a pretty laid back day, eat some turkey and then fell asleep! lol
I had put together a Thankful Tree and gave everyone (including my mom) 3 leaves to write 3 things that they are thankful for. Here is a picture of the kids with the finished Thankful Tree. I am saving it and plan on making one every year. I think it will be fun to see how their lives change and what they are grateful every year.
Here is what everyone listed:
Aaron-family, God and work
Cortni- the kid's, Aaron and my mom
My mom- God (Sara told her to put that one), family and her job
Anthony- Mommy, Lego's and Jesus (Chirst-he spelled it wrong...lol)
Emma- horsies, ponies and unicorns, Daddy & Bubba & Sara & Mommy & Caleb & Chowder (the cartoon) & Shadow (her stuffed dog), Nana & Luke & Cole
Sara- Toys, Caleb and Bubba & Sissy & Me (herself..lol)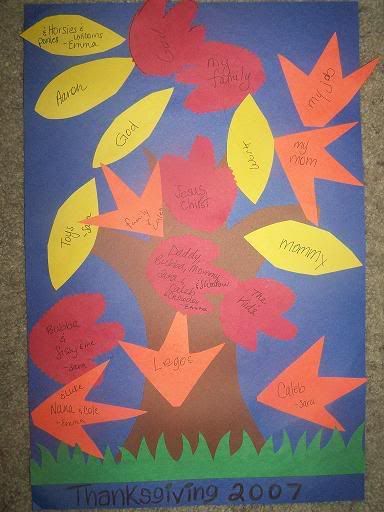 Emma took this picture of Sara...so cute!