We are so cool by waiting until Christmas Eve to take the kids to see Santa! lol I made Emma wear a bow, she didn't have a choice. She actually went along with it pretty well.
Sara being silly and showing off!
Pretty new hair bows to wear!
There is a reason Anthony looks goofy in this picture. First he was over-smiling, so I told him to knock it off, then he wouldn't smile, then too big of a smile...it went back and forth for a couple of minutes and I said forget it and took this one....that boy drives me crazy sometimes! lol
Emma with Daddy. You will never meet a bigger Daddy's Girl!!
Sara was made to take this picture. lol
Aaron and his pretty Little Mermaid purse. When I took the picture I told him I was "so going to blog this" and he said "I know you are"....hehehe....well at least he knows me!
Oh yeah, can't forget his seahorse phone!
The ballon guy made her a pink poodle (her favorite right now)
Emma had a candy cane, but it came apart and so she made an arch for them.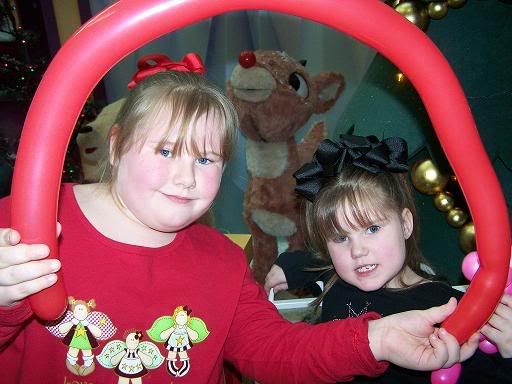 Anthony found this shirt in Dillard's and I had to take his picture with it....haha
He didn't want to sit on Santa's lap and take a picture because he thinks that he is so grown up now. I had to break it to him.....no picture, no presents. I will hold that over the kids until they are 18, even older if I can...I will try though!
Attack of the pink poodle~~