I signed up for a Homeschool Blogger Class but they have changed it to Homeschool Memoirs. So, if you want to follow along with me every week for the assignments and getting to know me, my family and about our homeschool, then go right ahead. I just thought I would let you know what these post's were about and if you want to join in, click on the Homeschool Memoirs picture on the right sidebar of my blog.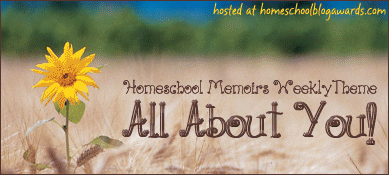 "The first theme begins today, August 20th, 2008. This week, we want to hear
about YOU. The author behind the words. The Momma behind all the homeschooling kiddos. Just write up something about you, your family, and your home. How long you've been homeschooling and why you decided to homeschool. It doesn't have to be anything lengthy at all, but we'd love to hear it! You might include a family photo too! "


Okay, the sidebars have our pictures, so you can see what we look like. I like arts and crafts, especially making hair bows. I like to paint to relax and I am working on making more time to read because I love to read.

This will be our 3rd year homeschooling. My kid's will be in 7th grade, 1st grade and Kindergarten. We started homeschooling because our son has ADHD and his teacher's wouldn't follow his IEP. They wanted him to be on more and more medication and we didn't want that for him. Now he takes less than half of what he did in regular school and he is just fine around other kids.

Another reason to homeschool was because our daughter, Emma, has learning disabilities. She spent two years in Pre-K and when she was done, her teacher let us know that she was more than likely dyslexic and would probably repeat Kindergarten as well. We figured that she would do better at home one on one. We actually did two years of Kindergarten at home too but she has come a long way and doesn't struggle as much as she has before.

Aaron and I talked about homeschooling for about 3 years before we actually did it and I am so glad we did. It is the best decision we have ever made. And I am really looking forward to starting school this year, it is going to be the best yet! I feel sorry for kid's who have to go to regular school, but anyone who homeschool's knows that homeschooling isn't for everyone.

I guess that's about it. I'm not feeling well today so I probably could have done better writing this, but I want to get off this computer and to go lay down. I hope everyone has an awesome evening!!