So my mom sent me a link to an old website I used to have from 2005. It had old pictures on it, but some were realllly old. From high school, 13+ years ago (man I am soooo old). And the only reason that I am sharing my humiliation is because I think that I got better looking the older I got...back then anyways. My looks have taken a downhill turn in the last 5 years since I had Sara...damn Bagby...hehehe

Introducing my first of three Freshman pictures. I am 15 here, have horrible acne, bad fashion sense and really bushy eyebrows...I actually like my hair. It was so soft and curly...we all remember perms right? lol This was taken at Bowman High in Bowman, N. Dakota where I had a grand total of like 32 freshman in my class.

Okay, since I hated my first Freshman pic, this is the retake. What sucks about this retake was that I forgot it was retake day. And I overslept. Therefore I had to jump in the shower, then ride my bike to school. The tips of my hair froze on the way to school. No lie. Then while I was scrunching and squishing the tips in the girl's bathroom, a nice helpful girl went to the office and got my a rubberband to put my hair halfway up.
On to my third Freshman pic. I hate this picture. I have old lady hair. Whoever though it was a good idea to cut off all of my hair and then perm it was wrong (mother), dead wrong.

But this is actually what started me on my 16 years of having short hair. I've grown it out twice and cut it back off. I am in the process of growing it out now and I'm not gonna cut it this time.



Back to the pic. It's not a school picture. It was actually taken at a studio in Rapid City, S. Dakota....I even have my Black Hill's Gold rose ring on. Black Hill's Gold is mighty popular up in the Dakota's.
Ahhh my sophmore pic. Haircut is too short, but I've greatly improved on my make-up skills. Earring's were too long and the necklace was my boyfriend's. I totally got picked on for this shirt too. Does it look revealing to you? Just because it was a v-neck it was considered racy. What a bunch of prudes! But I have to say that I think I look pretty here...Man I wish I was 16 again!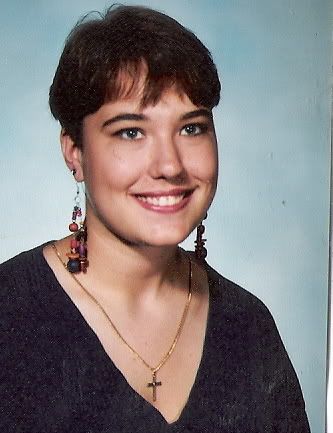 My Junior Pic. I am 17 and decided to wear my humongous glasses for some reason!!! I never actually wore them, just thought they would look good in the pic...and yes, I do need them, but to this day, I do not wear glasses. This was taken at Lewisville High School in Lewisville, Texas...I moved there halfway during my sophmore year.
This is about the time I started dressing all preppy. You like my button up shirt? I did! And feathered hair apparently...why do I always get bad haircuts right before picture day?
Here I am on my 18th birthday with my hockey cake. I looooved hockey back then. Me and my friends used to play street hockey on rollerblades like everyday. And my favorite team was the Vancouver Canuck's because of # 25, Nathan Lafayette! lol I love my hair here...this is actually my favorite pic of me ever...don't know why, just is.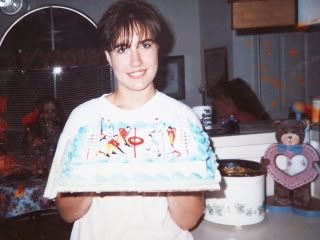 And this probably isn't the greatest prom pic I have..in fact, I know I have a better one somewhere...but anyways...here I am at 18 (almost 19) about to go to my Senior Prom with my loser ex (Anthony's dad). I don't know what the heck got all over the pic, but it wouldn't come off. I need to find more pics because Rachel and I went to prom together.
So there are my humilating high school pics. If I find more, you know I will share. Feel free to send me yours and I will share them (haha as if I really think anyone is going to fall for that one)!