So I really needed some new make-up. I have the whole line of Bare Minerals, but I am one of the one's whose face it makes all itchy. So I never wear it....what a waste! Anyways, I went to the grocery store and bought some new foundation, powder, blush and eyeshadow. Oh yeah, mascara too.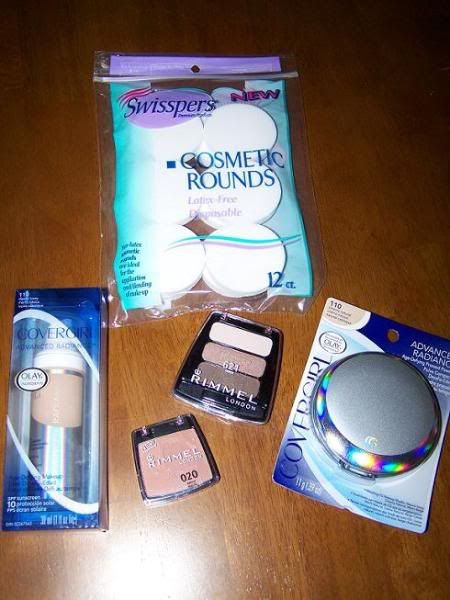 After trying to call my sis-in-law Nicole to ask her what she uses (she didn't pick up), I called Shelly to get her advice.

On her advice, I went with liquid foundation. She uses foundation from Kohl's and recommended it, but I have no idea where a Kohl's is and I was pressed for time. So I got Cover Girl. I used to wear Cover Girl and I know what shade I wear, so that made it easy. What wasn't easy was checking out the 5 million different types of foundation that are out there. You have liquid, whipped creme, cream to powder, mineral, etc....too many!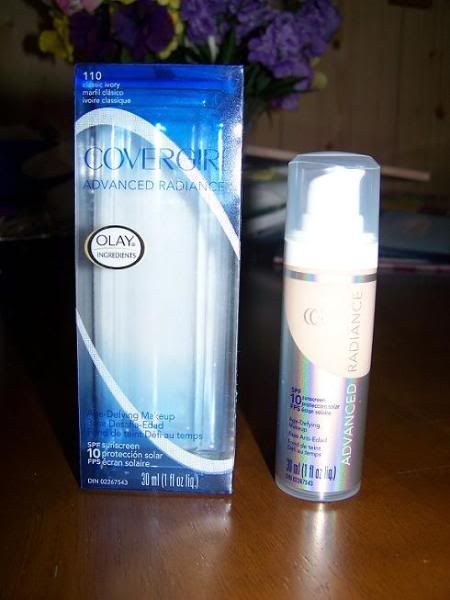 I got the Advanced Radiance because it kept talking about looking younger and in reality, I am getting old enough to start wearing products that make me look younger.
I tried on the foundation and I like it enough. It's very lightweight. I have red on my cheeks though and wanted something to cover that up. This foundation didn't but then I had the realization that unless I want some caked on crap on my face, nothing is going to cover it completely. (Someone told me that the Bare Minerals would, but it didn't either).