My mom and I took the kid's to Fort Worth's Day in the District, where you can get in free to 7 different museum's. We took them to the Kimball, the Modern and Log Cabin Village. At the Kimball we went to the Impressionist exhibit, which was awesome.
At the Modern I was mad, mad, mad. They have a featured exhibit right now by Kara Walker that is vulgar (in a very very sexual display), disgusting and totally inappropriate to be exhibiting during a family museum day. I am writing a letter of complaint. I am seriously disgusted and will NEVER set foot in that museum again.
On to nicer things.....the Impressionist's. Ahhhh! I wish that I had known that I would be taking the kid's to this sooner so we could have studyed some of the artist's. Monet was my favorite overall artist but Paris Street; Rainy Day by Gustave Caillebotte was by far my favorite painting. It was huge too! I took note of the artist's I wanted to teach the kid's about this year. Monet, Gauguin, Van Gogh, Renoir, Cezanne, Cassatt.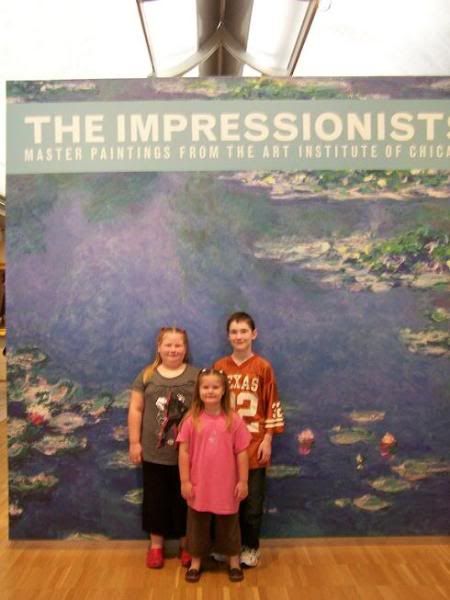 Here is Paris Street; Rainy Day by Gustave Caillebotte. It probably doesn't look all that great in a picture on a blog like this, but in person it is wonderful. There is so much detail. Sara liked the umbrella's and Emma noticed how he painted the water shimmer on the cobblestone street. The painting had to be at least 6-7 feet tall. It was huge.
Bad picture spot...the sun was totally in their eyes.
Log Cabin Village. Here a lady is showing the kid's how they used to make candles by dipping them in huge vats of wax.
The water mill where they grind corn into cornmeal. We bought a bag of it so the kid's can make some cornbread.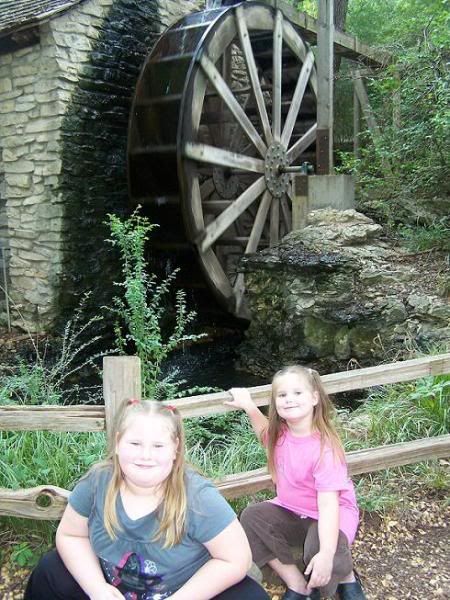 The inside of one of the cabins. I wanna live here! Maybe for like a week just to try out the life of a pioneer. I don't think I could go without Desperate Housewives and Grey's for much longer! lol
Splitting wood. I can't remember why...the guy told us last year. oops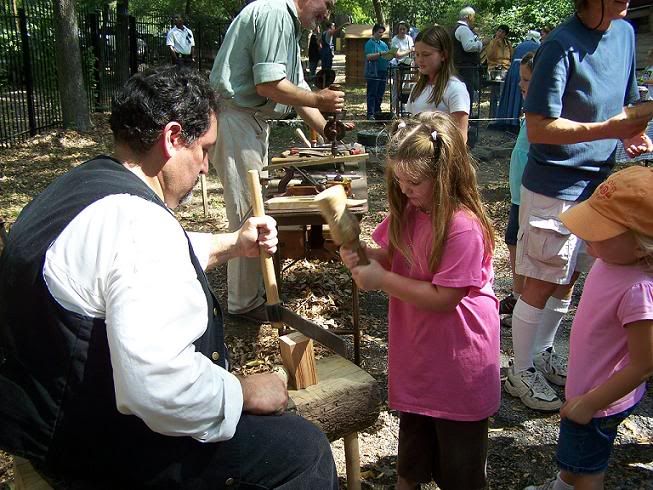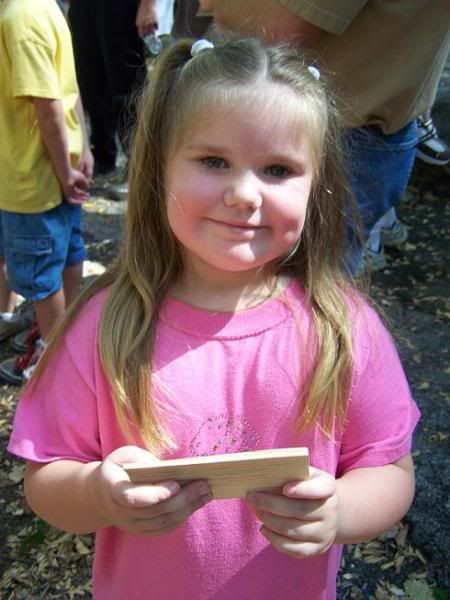 Their nice little outdoor kitchen. They had a dutch oven with coals on top of it and the guy lifted the lid and there was a perfectly baked pie. It was awesome.
I need to step up my collection of cast iron. I am soooo jealous! The girl's love to make old-fashioned recipes with me....especially biscuits made from scratch, so I know they would enjoy cooking like this!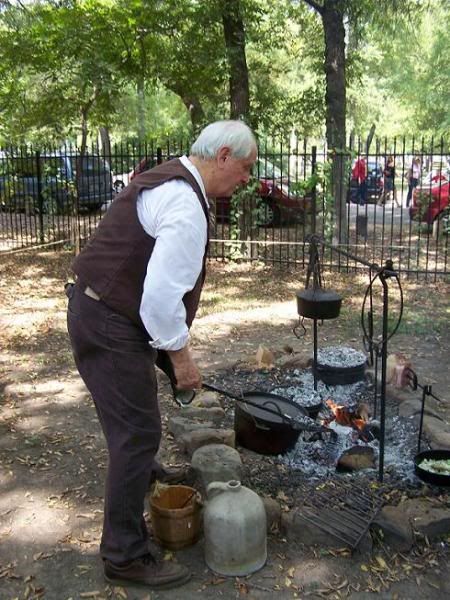 They didn't have this last year so this was cool.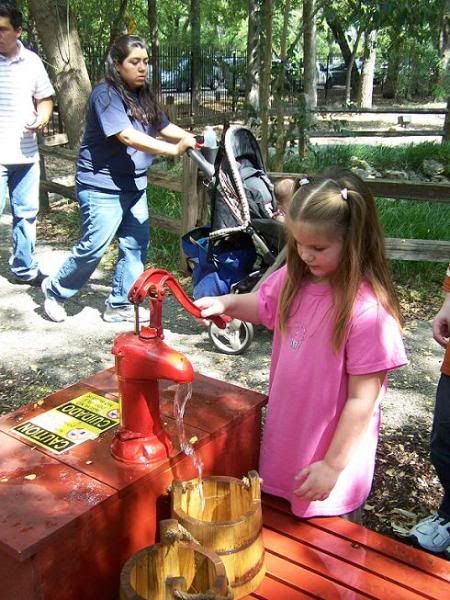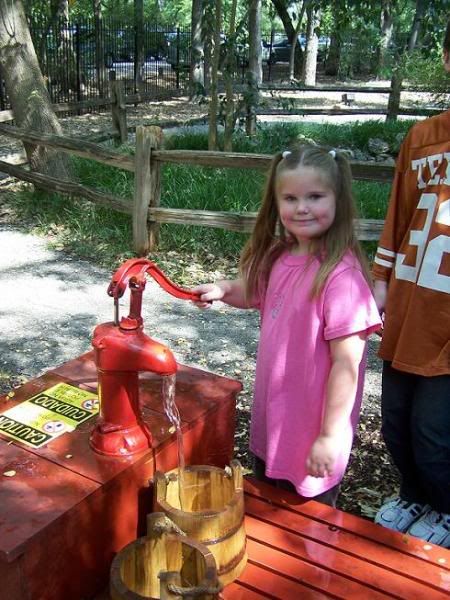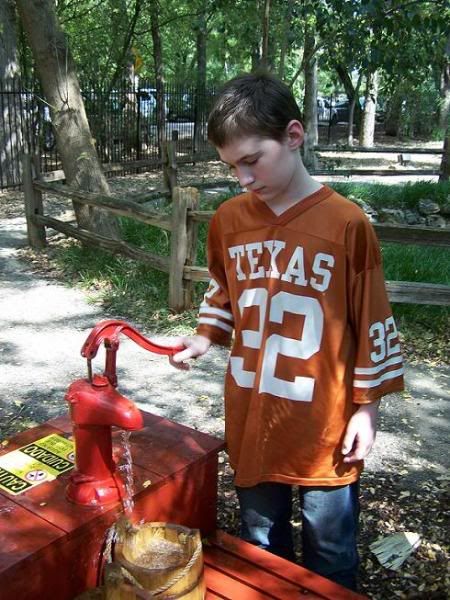 They have one cabin that is totally hands-on. Another cabin there is the oldest structure built in Tarrant County.
Nice little food cupboard here....it had to have been so hard not to have a fridge.
Taking a turn on the spinning wheel.
Churning butter. He cracked up because it was actually a plunger inside.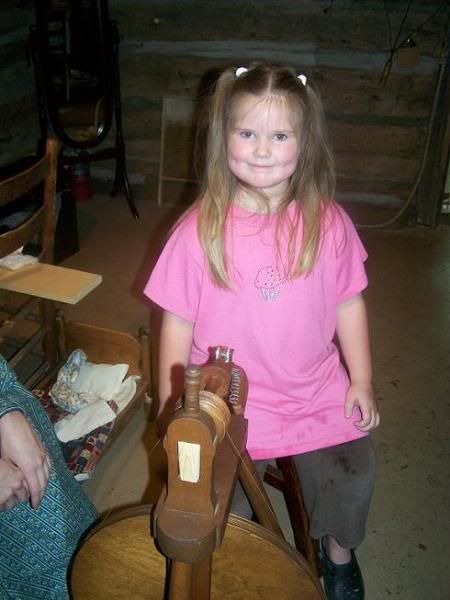 Overall it was a nice day. We only went to the 3 museum's and then had to head home so Emma could go to a birthday party. I think that we will skip Log Cabin Village next year and hopefully the Science & Nature museum will be back in it's own building so we can go there. Can't wait to see what exhibit's the art museums (minus the Modern) will have next year!